Dearnley/Dearnaley/Dearnaly + +
These pages are an attempt at listing all the known Dearnley+ family lines & 'currently orphaned' individuals.
We are slowly piecing the jigsaw together & any help is most welcome.
Occasionally we have made some assumptions - these are shown are shown in the accompanying notes.
- MED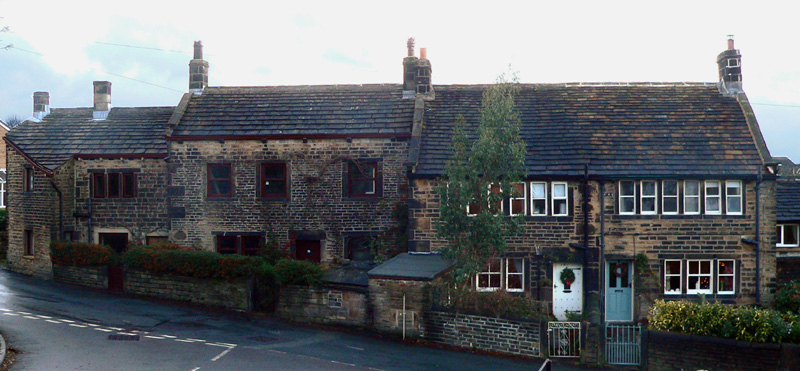 photo courtesy of Ian Goddard
Some of this group of houses go back to the C18th at least, perhaps parts of them may even go back to the C17th, although in one case the facade seems to have been altered in Victorian times or later. Whether any of the various Townend Dearnleys lived in any of them is unknown, but they would certainly have been familiar with the buildings.
- I.G.
The first "D" that we have recorded in Townend, was
William Dearneley
& family, who moved there from Ellentreehead about 1752. Part of the family remained in Townend, at least until 1947 when Joe Dearnley (William's 3rd great-grandson) could be found there.

Most common assumption.
The surname Dearnley(+) evolved from Darnley
It seems likely that the opposite is true.
"Darnley" in Renfrewshire, Scotland was originally "Derneley".
see:
Caledonia, Or an Account, Historical and Topographic, of North Britain
, Volume 3, By George Chalmers (Published 1824)
"Sir John Stewart of Derneley, the eldest son of Sir Alan died before January 1369"
"Alexander Stewart succeeded to the estates of Derneley before 1371.
(Google Books)
A Wikipedia source notes
: "The Stewarts of Darnley were descended from Sir John Stewart of Bonkill, the second son
of Alexander Stewart, 4th High Steward of Scotland. Their name is derived from Derneley, a barony in Eastwood parish,
Renfrewshire one & a half miles east of Barrhead, present day Darnley, within the city of Glasgow." (
Wikipedia)

The earliest Dearnleys we have found are recorded in the 14th century.
A 'Roger de Dearnley contributed to the subsidy of 1332' - Exch. Lay Subs. (Rec. Soc. Lancs. and Ches.) 'At Michaelmas 1351 Richard son of William de Bury did not prosecute his suit against John del Dearnley and others respecting a tenement in Hundersfield;'
Duchy of Lanc. Assize R. I, m. 5 d.
'In 1360 Adam de Dearnley was a plaintiff, John de Dearnley being one of his pledges;
ibid R. 8, m. 4 d; see also Dep. Keeper's Rep. xxxii, App. 342.
A Henry de Dernylegh was mentioned in a court action in 1382 -
more details on the
Early Dearnleys page
.

Ralph Dearnaley's 1848 log of the voyage from England to America
".... I cannot describe to you the wet dirty crowded miserable holds of the ship. I expect scores falling victims to desease and death before we reach New York. We have 500 on board chiefly Irish...." "....The sight of land brought most of them pasengers out of there holds. The sun broke out and about 12 o'clock we get a pilot and a steam tug. We was about 26 miles from New York. It was the most beautiful sight ever I saw, the coast and the buildings is past my describing..... "
Many thanks to the Buckmaster family for the full fascinating log, which can be found on
Ralph's page
.

Having trouble finding your Dearnaley / Dearnley +?
As there as so many name variations in the database, it can be tough to search.
Try searching for a known spouses name. If you still have no luck -
email me
with your known details & I'll try to find your branch.

This site is a work in progress from Janet Davies, Marie Ball, Ann Dearnaley, Harriet Garfitt, Ian Goddard, Mark Dearnley and many other contributors.
A special thanks to
Eric Dearnley
,
Martin E. Dearnley
&
Russ Preston
- without their generosity in sharing data, this index would never have begun.
- MED