The Dearnley Medal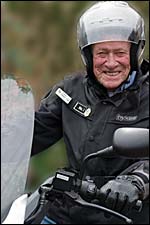 The Dearnley medal is named in honour of Stephen Dearnley, founder of the Ulysses Club. He is member No. 1, and recently turned 84.
(Feb 2007).
The Dearnley medal is awarded at Branch level nominations are made to Natcom by a Branch for work and activities at Branch level. In the 10 years since its inauguration, only 28 have been awarded, an indication of what a prestigious award it is.
source:
The Ulysses Club (Feb 2007)
In 1999 Stephen Dearnley, ex-submariner, retired publisher, and founder of the Ulysses Club was awarded a Medal of the Order of Australia. At the age of 80 or thereabouts, he rode a motor scooter right round Australia.

The Ulysses Club

(club motto: "Grow Old Disgracefully"
)

The Ulysses Club for older motorcyclists, the largest organization of it's kind in Australia, is now a familiar part of this country's riding scene. The original suggestion for a club for over 50's motorcyclists was put forward in a letter by Stephen Dearnley published in the August 1983 issue of Bike Australia. This drew two significant responses: one from Rob Hall, a reader at Albion Park NSW, who suggested the present name and motto for the club: the other from Peter Thoeming, then the editor of Bike Australia who sketched the logo and offered support from his magazine if Stephen could get the club off the ground. This was done at an inaugural meeting in Sydney on 6th December, 1983 when the five people present approved a basic constitution and the Ulysses Club was duly formed.br />
From that tenuous beginning it has never looked back and the club now boasts a large and extensive network of members throughout Australia.
source:
The Ulysses Club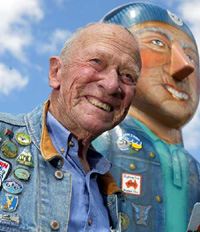 Stephen Dearnley OAM
1922-2012
It is with great sadness that we note the passing of Stephen.
He led a very colourful life which included roles as "survivor, publisher, motorcyclist, yachtsman and boatbuilder"

- see
THE OLD AND THE BOLD ...
He was also an early and generous contributor to this site.
Stephen will be sorely missed and our thoughts are with his family and many friends.